Sideshow of the Damned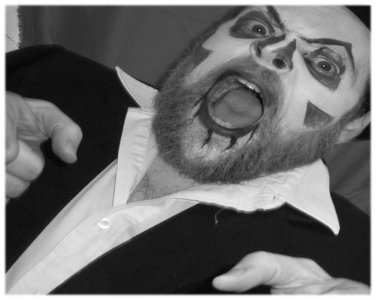 Presented by the Damned Co-op!
Written by Eric Woolfe
Directed by Michael Waller
Stage Managed by Chris Dupuis
Sound Design by Michael Waller
Lighting Consultation by Rick Banville
Original Music by Jay Turvey & Paul Sportelli
Media Relations by Lynn Lowes
The cast
The Barker – Steve Ross

Actor One (Gogol, Graham, Sister Ingrid, William) – Richard Alan Campbell

Actor Two (Maddy, Ezzy, Sister Mary-Frances, Imp) – Kimwun Perehinec

Actor Three (David, Harry, Jack, Archy) – Jason Charters

Actor Four (Waitress, Gloria, Jenny, Madge, Shadowy Man) – Rebecca Northan

This is an Equity approved Co-op.

Richard Alan Campbell (Actor One)

Richard sweltered in the park this past summer as Iago in Shakespeare in the Rough's production of Othello. Past work with SITR includes the title roles in Titus Andronicus and King John, as well as Lucio in last year's Measure For Measure. Other roles of note include: Vanek in The Co.'s Audience Unveiling Protest, Kung Tu in The Bundle (Equity Showcase), a very, very strange civil servant in Open Wound (Rhubarb), Algernon in The Importance of Being Earnest, Donny in American Buffalo (both in Vancouver), and the one man show Herringbone (Gate Theatre, London UK). George W. Bush and Keith Richard's fingers scare the crap out of him.

Jason Charters (Actor Three)

Theatre credits include Reece in Communicating Doors (Magnus Theatre), Jacob Mercer in Saltwater Moon (First Stages Theatre Co.), Jacques Plante in Jacques Plante and the Parkdale Knitting League, Benjamin in Perfect on Paper (Toronto Fringe), The Boy in Three Tall Women (The Grand Theatre) and Gulliver in Gulliver's Travels (Mermaid Theatre). Film and television appearances include The Enduring Enigma of Susanna Moodie, Someone to Love and Due Consideration. Jason directed Eric Woolfe's The Strange & Eerie Memoirs of Billy Wuthergloom at the terrifying Buddies in Bad Times Theatre in 2001 and again at the sinister Grand Theatre last spring. Carry Me Home: The Legacy of Nathaniel Dett, a documentary Jason co-produced, airs on Vision TV in February 2003. He is afraid of the sound of Rebecca's father clipping his toenails in the kitchen.

Chris Dupuis (Stage Manager)

Chris is a director and playwright who stage manages 'cause it's so much damn fun. Recent SM credits include: Little Dragon (K'now Theatre), The Fire Sermon (bluemouth inc.) and Double Identity (The Yiddish Theatre of Montreal). He was the assistant director of Homage (Buddies in Bad Times). Upcoming: Five Fingers (Platform 9) at the TPM Backspace. Chris is afraid of mime.
Rebecca Northan (Actor Four)
Rebecca is an actor/improviser/

director and three time Canadian Comedy Award Nominee for Best Female Improviser. She is one of the newest members of the Second City National Touring Company and co-producer of Micetro Impro at the Victory Café. TV credits include: Elvira Kurt's Adventures in Comedy, The Endless Grind (The Comedy Network), The Holmes Show (CTV) and Liquid Soaps (CBC). Theatrically Rebecca has appeared at Alberta Theatre Projects in their playRites Festival, Theatre Calgary and Quest Theatre, and will appear at the Manitoba Theatre Centre in January in Philadelphia Story. Rebecca is also a Global Television Woman of Vision Award recipient. This month Rebecca shoots an improv pilot for the Comedy Network with Linda Kash and Paul O'Sullivan. She's afraid of centipedes, swimming in lakes with weeds at the bottom, other people's feet and the sound of her father clipping his toenails in the kitchen!

Amanda Parsons (potential Actor Four replacement, Saturday October 19)

Amanda is originally from Halifax, NS, and is extremely excited about being a part of Sideshow of the Damned. Credits include Jennie in Chapter Two, The Seven Ravens, Norah in Wrong for Each Other and Maria in Twelfth Night. The thing that scares her most is the prospect of doing this show with no rehearsal.

Kimwun Perehinec (Actor Two)

Kimwun most recently workshopped then appeared in three new Canadian plays for the first Studio Theatre season at the Stratford Festival (Jess in High-Gravel-Blind, Meredith Gryphon in Shadows and Poet Ruskin in Walk Right Up). Other recent credits include the original production of Sideshow of the Damned (Eldritch Theatre), Static Cling (The Ninth Airborne), Vicious Little Boyz in the Rain and Popsong (Theatre Direct Canada), and a staged reading of Blessings in Disguise (Touchmark Theatre). Film and television work includes Max and Zoe, Puppets Who Kill, Thieves, Prince Charming and Nikita. Upcoming theatre: The Laramie Project for Studio 180, in February 2003. Kimwun is afraid of the people who actually eat the things on Fear Factor. She is a graduate of the actor training program at George Brown College.

Steve Ross (The Barker)

Steve's waited a very long time for a twisted show like this! Most recently he was seen in War Brides at Theatre Aquarius and as Bottom in A Midsummer Night's Dream for Theatre by the Bay. Other recent credits include How the Other Half Loves (Sunshine Festival), Indian Ink (CanStage/NAC), The Piper (Necessary Angel), Jesus Christ Superstar and Joseph… (Theatre Aquarius), and The Foursome (New Stages). Prior to this he spent four seasons with the Stratford Festival where he was seen in Fiddler on the Roof, Julius Caesar, Man of La Mancha, Coriolanus and Richard II among others. Some "pre-Stratford" credits include Les Miserables (Neptune Theatre), Into the Woods and A Little Night Music (CanStage) and Lend Me A Tenor (Piggery Theatre). Following this Steve will be seen in Sylvia (Theatre Aquarius) and Sweeney Todd (CanStage). Over the years, Steve has developed a healthy (albeit irrational) fear of claymation films and some fried meats. He's a graduate of The National Theatre School of Canada.

Michael Waller (Director)

Michael is thrilled to be working on Sideshow again. Since his last foray into this hoary world, he has directed Sean Reycraft's Roundabout for Theatre Direct, Dave Carley's Midnight Madness for Theatre on the Grand and William Shakespeare's Othello for Shakespeare in the Rough. His last encounter with Mr. Woolfe was the puppet extravaganza Grendelmaus, for Eldritch Theatre. Other directing highlights include Dave Carley's Taking Liberties, Walking on Water and View from the Roof (Chalmers Award nominee); Sean Reycraft's Popsong (Chalmers Award winner); and the Bittergirl Collective's Bittergirl (just back from the Big Apple). Michael has also written and acted in many CBC Radio plays, most recently Test Drive with Gordon Pinsent. Michael is the recipient of the Ken MacDougall award and a graduate in acting of Carnegie Mellon University.

Eric Woolfe (Playwright)

Eric is an actor and playwright. His other writing credits include The Strange & Eerie Memoirs of Billy Wuthergloom, a suburban-gothic horror musical about puberty and the supernatural; Grendelmaus, the tragic tale of a doomed love and the ancient, malevolent rodent who destroyed it; Pomeranski Rex, a hard-boiled tragedy; and the upcoming Chichimus Waylaid, which is about witchcraft and the early days of the CBC. His hook lines are often better than his plays. He is the Artistic Director of Eldritch Theatre (www.eldritchtheatre.ca), the original producer of Sideshow of the Damned. His acting credits include Timon in The Lion King (Mirvish Productions), Ishmael in Grendelmaus (Eldritch Theatre), Lott in Kingdom of Earth (Touchmark Theatre), Einstein in Picasso at the Lapin Agile (Centaur Theatre) and Miles in The Drawer Boy (1000 Island Playhouse). He has also worked for Equity Showcase, CanStage, The Grand Theatre, MTC and the Toronto Fringe. Film & TV credits include Doc, Due South, Traders and the cartoon Beyblade. Mr Woolfe was raised by traveling circus folk. His father was an armless knife thrower, and his mother was the more fully formed half of a set of conjoined twins. Sideshow of the Damned is his most autobiographical play to date. He fears nothing.

Special thanks to:

Amanda Parsons, Gail Packwood, John Grey, Mirvish Productions, Miriam Newhouse, Esther Hale, Canadian Actors' Equity Association, Louise Gauthier, Melody Johnson, Hume Baugh, Ron Kennell, Darren Keay, Steve DelBalso, Lisa Merchant, Lindsay Leese, Dawn Weaver, The Great Old Ones That Were and Always Shall Be.

Where can I see this travesty again?