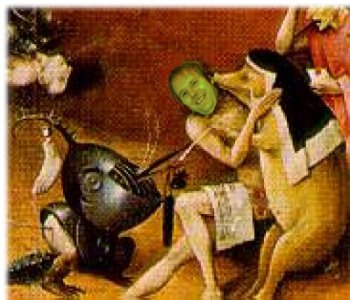 Who the Hell Are We?
Grendelbios....
Michael Waller (Director) is very excited to be working once more with Eldritch Theatre. His last excursion was Sideshow Of The Damned, a summer-works smash. This year, so far he has also directed Sean Reycraft's Roundabout for Theatre Direct Buncha Young Artists festival. Upcoming, he will be directing Othello for Shakespeare In The Rough. Other directing highlights include Dave Carley's Taking Liberties, Walking On Water and View From The Roof, The bittergirl collective's, bittergirl and Sean Reycraft's popsong (Chalmers Award winner) Michael also acts and writes and his credits include shows throughout Toronto, Canada and The United States and various radio plays for CBC. Michael Waller is a graduate of Carnegie Mellon's Acting program and a recipient of the Ken Macdougall Award for most promising young director 1998.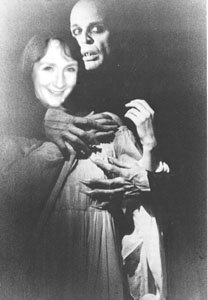 Mary Francis Moore (Rachel)
is an actor, director and writer.

She has performed at many theatres across the country as well as London, Englandís West End.

She is a former Associate Director for Magnus Theatre and a recipient of Theatre Ontarioís Professional Directorís Grant.

She has directed numerous TYA touring productions as well as for the festival circuit and the Tarragon Spring Arts Fair.

She was most recently seen as Hermia in A Midsummer Nightís Dream.
Eric Woolfe (Ishmael, playwright, puppet designer) Having just completed a year as Timon in Disney's The Lion King, Eric is thrilled to be getting back to theatre with fewer people and puppets that are scary. His other work for Eldritch Theatre includes Sideshow of the Damned (playwright) and the Strange & Eerie Memoirs of Billy Wuthergloom (Billy, playwright). Some of his uncreepy credits include performing in Kingdom of Earth for Touchmark Theatre, Ghosts for Stagecraft 98, Shakespeare's Wars of the Roses for the Canadian Stage Company and The Brighton Beach Trilogy, Secret Garden, and A Christmas Carol for the Grand Theatre. And A Clever Boy for the Toronto Fringe Festival. His hardboiled, Greek Tragedy, Pomeranski Rex won the Toronto Fringe 24 Hour Play Writing Competition in July 2000